NOVEMBER 2022 Monthly Report
In November 2022, we at Wave served 1,482 hot meals, welcomed 141 new arrivals, distributed 1122 clothing and 690 hygiene items, ran 250 showers, charged 293 phones and power banks, and washed 135 loads of laundry.
November was once again a busy month at Wave as 141 newcomers arrived at our centre, a slight decrease from October but busier than previous months. Despite the colder weather, people continue to arrive in Greece with the aim of moving further into Europe.
New opening hours
With the shorter days and colder weather conditions, we decided to change our opening hours so people have longer access to the community centre. Our centre is still open seven days a week but at an earlier time from 11:00 – 18:00 with hot food served from 16:30 – 17:30. The shower container is open daily from 11:30 – 17:30 and the free shop, in which people can acquire basic clothing, shoes, sleeping bags and hygiene items, is open Monday – Friday from 16:00 – 17:30 and closed on weekends.
Wir Packen's An donation
As mentioned in our previous report, we launched our Winter Clothing Fundraiser hoping to raise €5000 in order to distribute winter clothing such as thermal items, jackets, hats, scarves, sleeping bags and shoes at our centre. Thank you so much to everyone who has contributed and shared our fundraiser! We have reached over half our target and with the money donated so far, we were able to purchase winter items to distribute at our centre and support the increased demand for proper winter attire. Fortunately, this coincided with a timely donation from Wir Packen's An who sent us sleeping bags, hats, gloves, socks, shoes, winter jackets, jumpers, gloves, fruit smoothies, and thermal clothing – essential items to help people continue their journey through harsh weather conditions. Increasingly restrictive EU migration policies have resulted in gaps in humanitarian assistance for people-on-the-move, so at Wave, we strive to ensure people are adequately equipped.
Support from Three Peas
After expressing concern about the increase of newcomers to our centre and the lack of sleeping bags, long-time supporters of our project Three Peas kindly set us emergency funding. With the generous donation, we were able to purchase 100 sleeping bags. As many of those who visit our centre live in precarious informal arrangements with inadequate shelter, providing a warm sleeping bag is essential to support people through the cold days and nights.
Access to Asylum training
We held our monthly 'Access to Asylum' training facilitated by a member of Mobile Info Team. Volunteers consistently highlight how informative the training is, which provides an overview of the complex asylum system in Greece and contextualises the hostile situation people-on-the-move face daily. This time we were happy to have volunteers from Naomi join, who donate joggers and shorts to us regularly!
World Cup 2022
The World Cup kicked off this month and we have been streaming the tournament at the centre. With Morocco making it through to the semi-finals – and being the first African team to do so – there was plenty of celebrating at Wave. Being able to show the football at the centre enabled people to rest inside with hot food and enjoy a sense of community. At Wave, we strive to facilitate a safe space, and particularly in the colder winter months, the World Cup has provided a lot of entertainment. We wish Morocco all the best at the semi-finals this week! Tahhya lmoghrib!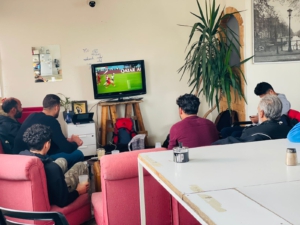 Community mural
This month one of our community members started sketching out a mural in our centre, before painting his own design and the Wave logo on the wall! Since moving indoors, we wanted to begin a community mural project and have people contribute to redesigning the space. The paintings are beautiful and bring some colour to brighten up the centre. We look forward to the additions people will bring in the future, and will continue to document them in our monthly newsletters to share the progress!