OCTOBER 2022
In October 2022, we at Wave served 1,684 hot meals, welcomed 164 new arrivals, distributed 2048 clothing and hygiene items, ran 309 showers, charged 296 phones and power banks, and washed 91 loads of laundry.
October was a busy month at Wave with a two-fold increase in new arrivals to our centre compared to September, despite the hostile situation for people on the move in Greece and the ever-increasing securitisation and fortification of the EU's external borders. The significant rise in numbers meant we distributed more hygiene items, clothes, shoes and sleeping bags than in previous months. With many humanitarian aid efforts concentrating on the ongoing Russian invasion of Ukraine, we are experiencing a decline in donations and are struggling to provide each individual with the necessary winter items. Many who avail of our services are forced to live in precarious structures, such as abandoned buildings or on the streets without access to heating or electricity and are excluded from basic humanitarian provisions due to lack of documentation. It is therefore imperative that we at Wave are in the position to provide people with the items to keep them warm throughout winter. We have launched our Winter Fundraiser and aim to fundraise €5000 so we can buy winter items such as hats, scarves, gloves, thermal tops and bottoms and warm sleeping bags. We kindly ask for people to donate to and share our fundraiser to support people on the move this winter. The link to our fundraiser can be found here and on our Facebook and Instagram.
Solar Panels donation
The solar panels for our shower container were stolen in early August which meant that we had no running hot water for showers. This was unfortunate, but as temperatures exceeded 30C during summer it did not pose a significant problem. With summer coming to an end, there was an increasing demand for hot water. Luckily, Swiss NGO Humansnation kindly offered to support our project and paid for the installation of new solar panels so we could once again offer hot showers at our centre. As the expense was not feasible for us, we are extremely grateful for the donation and glad that people can once again enjoy a hot shower at the centre.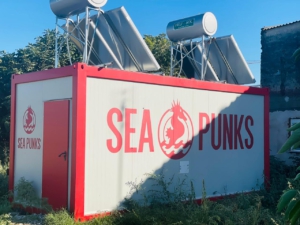 Dry food shopping with Grenzenlose Waerme
With the cost of living crisis and the war in Ukraine, food prices have soared resulting in us spending a larger proportion of our budget each month on dry food staples such as pasta, rice and beans. Members of Grenzenlose Waerme visited us this month and bought dry food items to supply us for the next two months so we can continue to cook nutritious meals. We would like to express our gratitude to Grenzenlose Waerme for their unwavering support.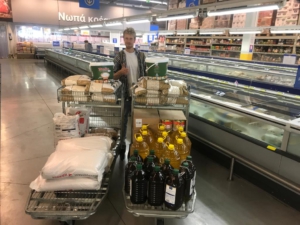 Barbershop
Our Barbershop has been in full swing since we moved indoors and has been very popular among the community! Appearance can be important for an individual's self-esteem and for some it is the first time in a while that they have had a haircut and a shave. We're delighted to see people relax and enjoy their new trim!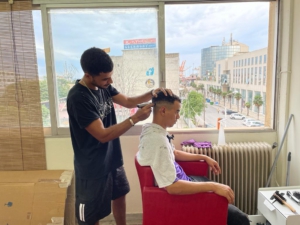 An Update On The Political Context In Greece
As mentioned in previous reports, a new online platform to register asylum appointments was launched by the Ministry of Migration and Asylum. A mere few days after it commenced, the system effectively shut down leaving individuals with no option to register their asylum appointment. The system has since recommenced but appointments are reportedly not available until February 2023. People who have registered for an appointment are not provided with any documentation whilst they wait and are therefore at increased risk of arbitrary detention and pushback. This is of grave concern for our community members and newcomers to Wave.
IOM's Missing Migrants Project, which documents border deaths, has published figures that show over 5000 people have died on European migration routes since the beginning of 2021. The staggering loss of life, which is preventable and resembles war-like figures, is the direct result of deadly EU migration policies, which force people to take perilous routes to reach Europe. At the Turkey-Greece land border, a common route taken by individuals who arrive at our centre, 126 deaths have been documented, a significant increase from previous years. Of those 126 deaths, 58 were reported to be pushback-related.
Against this backdrop, the leaked OLAF (European Anti-Fraud Office) report has revealed Frontex's attempt to conceal their involvement in illegal pushbacks of people who attempted to reach Greece. According to the damning report, Greek authorities systematically ordered pushbacks and committed human rights violations. As expected, Greece responded by dismissing the report's findings as "fake news" and "propaganda" by the Turkish state. Despite mounting evidence of pushbacks and the documentation of border deaths, the Greek government continues to vehemently deny pushbacks and their widespread human rights violations.